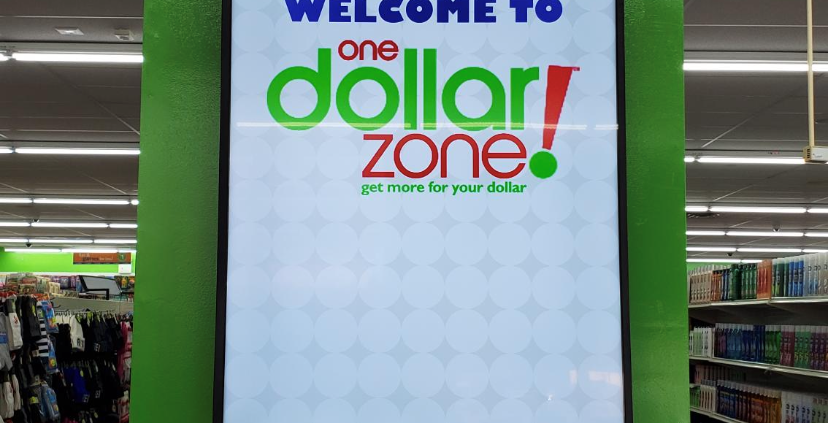 Project Synposis:
Digital signage with remote monitoring and management at an affordable price for a budget brand
LCD Screens positioned in windows, cash-wrap areas and promotional end-cap positions for greatest visibility
Affordable monthly subscription to the GSL XEN Platform offers a scalable commercial offering at an affordable cost
The Success Story of an independent family-owned convenience store chain operating across the northeast of the U.S., utilizing digital technology to inform and entice shoppers.
"one dollar zone! has remained an independent family-owned operator at the $1 price point, with stores across the Northeast including Connecticut, Massachusetts, New Jersey and Pennsylvania.
By offering great, trusted, and national brands to our shoppers, one dollar zone! looks to help individuals live better by maximizing the value of their dollar"….
one dollar zone
Budget Conscious Retailers understand the importance of utilizing digital technologies to engage and inform shoppers about the latest products and promotions, but can they afford to embrace such strategies at the same time as maintaining their allegiance to the dollar store heritage? one dollar zone understood that their target audience not only needed to be informed that their store provides big brands at low prices, but that communication of promotional offers would be key to increase footfall.
This retailer's ambition was to provide a shopping experience that goes above and beyond the product price point – to create an upmarket store layout and environment for the shopper, showcasing their big brand products whilst tailoring the content to their shopper demographic. In key locations they wanted to display looping digital content to attract and engage with the consumer whilst including the ability to update the content quickly and with ease.
This missing component was finding a partner who understood the market the retailer worked in and was able to offer a high-quality solution with advanced functionality at an affordable price.
Ground Support Labs XEN Platform was the perfect solution for this brand – with industry leading secure Content Management, a Proactive Monitoring Network Operations Center for reliable operations, and advanced remote monitoring sets up one dollar zone to seamlessly scale their digital signage platform to all their locations.
GSL leveraged its extensive manufacturer relationships to procure high performance digital displays perfect for this solution without compromising quality. In addition, GSL's competitive leasing option's provided unbeatable value.
GSL's installation team seamlessly installed the equipment and connected all components to the XEN Platform, providing a turnkey CMS and Support solution.
With a simple monthly subscription fee to the XEN Platform, one dollar zone received the perfect digital signage platform with XEN at the perfect price.
The results are two-fold: For the shopper, the signage platform provides an in-store experience that engages them and gives them the confidence that the products carried are the big brands they recognize at amazing prices. For the customer, the digital screens allow them to provide a clear message to their target audience about the experience their shoppers will receive in store, the prices they expect to pay, as well as the brands they expect to see filling the shelves. It sets them apart from the competition, by being ahead of the curve with digital consumer engagement. The GSL content management and support package gives them peace of mind their content is current, the in-store staff can keep their focus on the job in hand, and GSL is quick to respond to any digital support inquiries. The solution also provides one dollar zone with a platform for branding, campaigns, and promotions as well as a solution for revenue generation from key brands. The icing on the cake for the customer is that they have achieved amazing results all within budget.
A true example of how with the XEN Platform, GSL can deploy and manage a successful digital signage campaign at any budget!
https://www.groundsupportlabs.com/wp-content/uploads/2022/11/Welcome.png
1792
828
Martyn Barnett
https://www.groundsupportlabs.com/wp-content/uploads/2022/10/web_logo-300x138.png
Martyn Barnett
2022-10-12 07:44:23
2022-11-08 14:38:02
Get more for your dollar